EWE CAN DO IT SHETLAND SHEEP
IN BEAUTIFUL BUCKS COUNTY PA 18942
WHERE PETITE IS PERFECT!!!!
---
For information contact: shepherdess @ewecandoit.com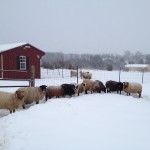 THE JOURNEY
I am a city girl, born and raised on 34th Street in Bayonne, NJ. At least, I was. I am also a knitter. I remember sitting on the front porch with my mother learning to knit and purl left-handed when I was eight years old.
All that changed when I got a Shetland Sheepdog named Diamond in 1994. Diamond had "herding" instinct and we began to take herding lessons. I remember thinking, "Ugh, sheep stink, OMG they are going to run me over and kill me." My grin, like the Cheshire cat's, goes from ear to ear. This was SO MANY years ago.
To continue, our instructor gave us three sheep with which to practice and in 1996 my friend Janet and I established our first flock of sheep. Seeing as we had Sheltland Sheep Dogs, we decided we needed Shetland Sheep. Enter three more sheep, a name for the flock and registration with the North American Shetland Sheepbreeders Association.
That was 22 years ago. Although I continued to work at my "regular" jobs over the years, I also began to focus on fiber and fiber arts. Now I am an OHS Master Spinner, have become a judge of fleeces, have my own studio and two flocks of sheep. The Registered Shetland flock lives in Ottsville, Pa with me and the herding flock lives in Upper Makefield, PA near our old house.
There have been many adventures along the path, many people who have come and gone, many animals who have come and gone, bad times and good times. I never thought I would have a farm or raise animals. If we ever meet, ask me about the amazing life I have lead and the incredible stories of my journey.
Judi Lehrhaupt (215-801-5652)